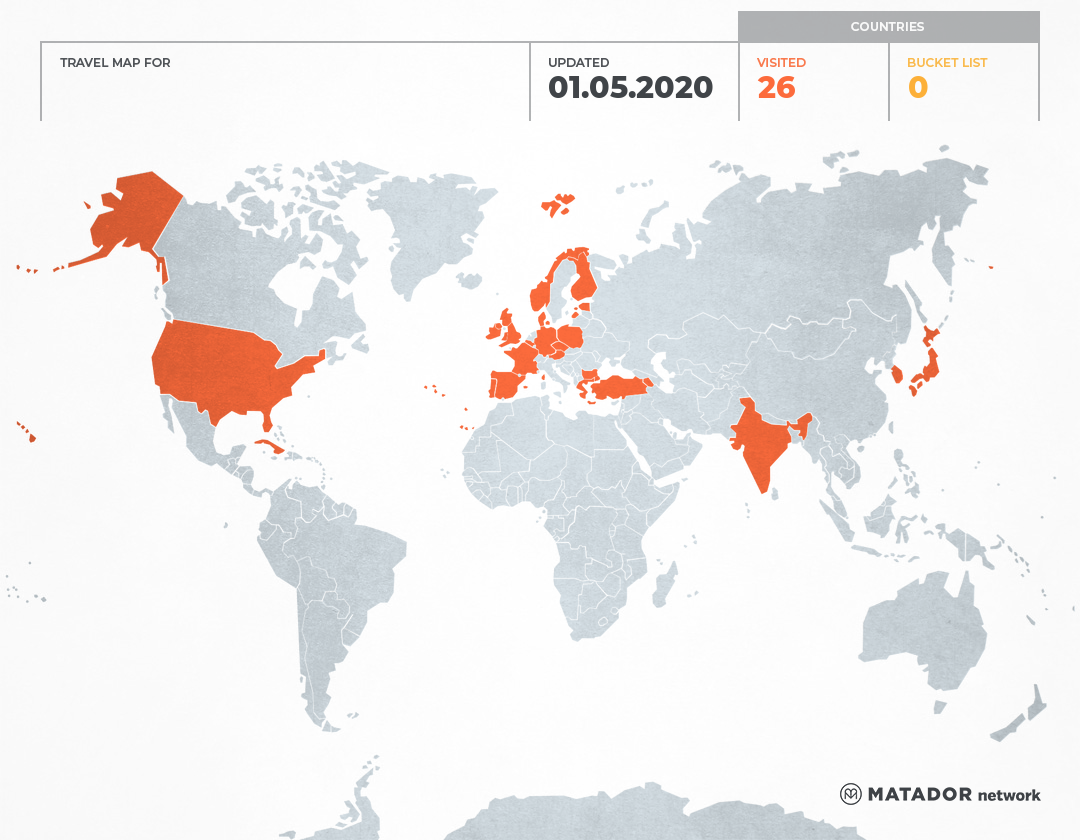 Cuba & Florida 2017
…
St Olav's Way Norway 2016
…
What was planned as a 1 week mainland and 1 week island hopping trip, turned out differently as I had thought (and wished). Nonetheless I wrote a blogpost about my travel itinerary highlighting all the impressive ancient Greek sites as well as the marvelous Aegean Islands. Read it here.
Japan & Korea 2015
Doing a 4 week trip through Japan and South Korea was a deep dive into a different world. The Far East is unlike anything you experience in Europe and both Japan and Korea are outstanding. As a German it's a very humbling experience. Mainly because both countries are incredibly well organized and at least from a tourist perspective I can say: Better organized than Germany. Public infrastructure is just amazing.
Culturally one can feel ancient Japan at every corner. For game nerds there's some Wonders of the World to be seen. Kyoto alone is the city with the most UNESCO cultural heritage sites in the world. And of course those sites are abundant all around Japan.
Korea doesn't lack anything either. Much smaller than Japan it's full of ancient treasures and vibrant megacities!
Walking the Camino Portugues was a great experience. Cleansing for the mind, nice exercise for the body. The coastal route is a great pick for a loner (like me sometimes) because it's less traveled. It also provides spectacular views. Doing this tour in March was a good decision since the hiking conditions were excellent: Always around 22 degrees by day, not too warm for consecutive stages between 20 and 30 kilometers with not a day of pause.
Turkey 2014
Last big holiday before the breakup. Happy days. Sunny days.
Turkey is an amazing destination. I still lack the New York comparison, but I'm sure, Istanbul doesn't have to hide! I rarely experienced a city this vibrant.
Also we went to see Ephesus and the remains of the Temple of Artemis, one of the Wonders of the Ancient. Not to mention swimming in the Aegean Sea… Awesome. Just awesome.
Ireland 2013
Moved here while in a wonderful relationship. We had a brilliant time. The craic was mighty! We did loads of trips and saw most, if not all, of the best Ireland has to offer:
Got to know Dublin quite intensively, drank loads of Guinness, saw the Cliffs of Moher, drove the Giant's Causeway Coastal Route in Northern Ireland, visited Galway and Connemara, went to Kerry and enjoyed both Dingle peninsula and the Ring of Kerry, tasted Tullamore Dew in the original distillery.
Eventually I moved back to Berlin single.
Life is a crazy ride and nothing is guaranteed. — Eminem
India 2012
We were invited to an Indian wedding in Kerala in southern India. So we went – and traveled a little through the subcontinent after that. Seeing the Alleppey backwaters, tea plantations in the highlands of South India, the entirely different climate zone of the neighbor federal state of Tamil Nadu, this travel brought us unforgettable memories.
Portugal 2011
Only three weeks after I met my girlfriend in Berlin, we traveled to Portugal. We made an awesome trip seeing Lisbon, Sintra, traveling north until Porto. A beautiful city! If you're thinking about a short trip for a romantic weekend – travel to Porto!
In 2011 I had the chance to work in Armenia for some weeks and it was brilliant. Working in Yerevan can actually not be considered travel, but I certainly got to know the place! It's a great city with an amazing, vibrant feel! My colleagues took me on some short trips through the country as well, showing me how rich in variety Armenia can be.
Scotland 2010
A 10 days trip through Scotland might not be enough to experience everything. But a travel this long is certainly enough to begin to grasp the beauty of this country. Glasgow, Edinburgh, Inverness, Loch Ness, Oban and back down at the west coast of Scotland was a long ride, but worth every mile.