and because I missed it: Also 2021 Gaming in Review. I didn't do a post like this at the end of 2021. Because of this and because in the last two years I have completed not nearly as many games as in 2020 alone, why not sum this up in just one post?
Here's my finished games of the past 2 years:
2021
That year had been tough. Not much gaming but loads of work and childcare. I finished some puzzle games and some 😉 😉 puzzle games 😉 😉
Next to that I've worked on some Civilization 6 Steam Achievements, of which only one has received a guide on this page.
52. Zup! X
53. Hexologic
54. Factory Town
55. Sport Girls
56. Brain Break
57. Neon Girls
58. Keyboard Killers
59. Lineway
2022
Compared to '21, the 2022 gaming in review is much more exciting: Playing A Way Out with a colleague and friend was great! A co-op masterpiece. Highly recommended!
Islanders and Mini Metro are amazing puzzle fun with really interesting concepts and challenging but still fun achievement hunting.
60. Knight's Retreat
61. A Way Out
62. Islanders
63. Mini Metro
64. Dorfromantik
65. 80's OVERDRIVE
67. Kingdom Rush
Robert's highlight of 2022 gaming in review: Dorfromantik
Dorfromantik to me was the highlight of the year. Relaxing puzzle fun, building from small scale few dozen hexagon landscapes to EPIC several thousand tiles scale, this simple concept can take players quite far and also terribly long. Time flies faster than while binging your favorite TV show.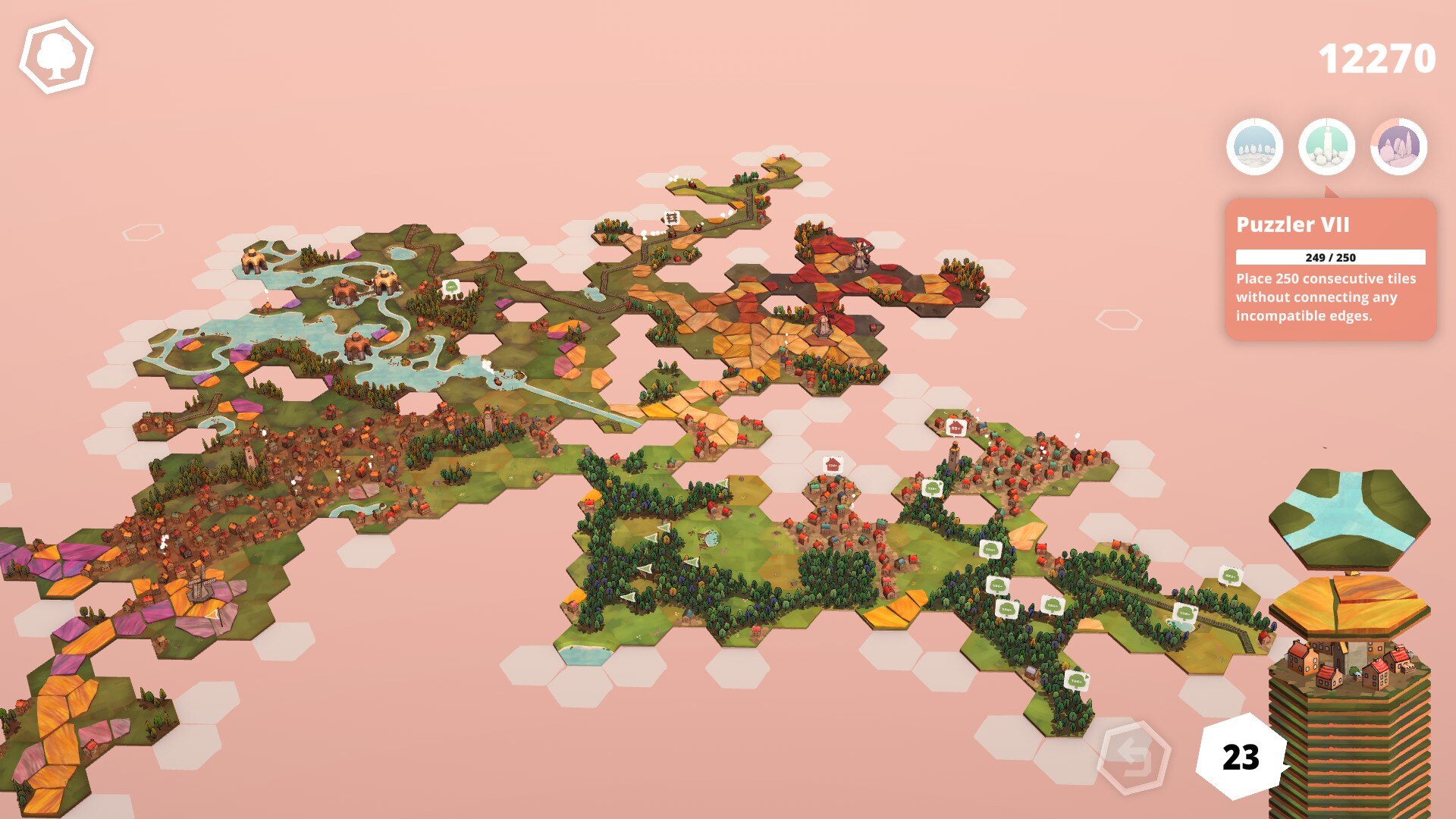 If you're looking for a medium-challenging relaxing but beauuuutiful puzzle game – check out Dorfromantik! It's worth the time and money 🙂
New Steam Feature: 2022 Gaming in Review = Steam Replay
A lot of gamers are blogging about the games of the year and what they played, statistics and time spent, achievements and more. Steam has also heard those calls and provided a really nice overview of
what people have played over the year
how time was spent
new games played for the 1st time
achievements collected
Here's my overview!
---
2023 outlook
Let's see what 2023 brings! There's definitely already 2 things going: "It takes two" for co-op and "Stacklands" for singleplayer fun. Furthermore I'm still heavily playing Civilization 5 Multiplayer Games using the GIANT MULTIPLAYER ROBOT.