Here's what to do if you want to experience Berlin in one day
…or maybe two…
In October 2013 Oonagh, a colleague of mine, asked me for some touristic hints on Berlin. She said she only had one weekend, so I promised her to create a plan, so she could make most out of her weekend and experience "Berlin in a nutshell". I lived in Berlin for about 10 years, so I dare to say I know the city. Not every detail – but most of it. In terms of tourist attractions maybe even more than Berlin-born friends.
Walking tours
Here's a map of this walking tour:
Click here to see it on Google Maps!
Part 1 (Day 1 if you have an entire weekend)
start at Berliner Fernsehturm, called "TeleSpargel" by the Berliners, which literally translates to "TV asparagus"
when leaving the TV Tower (or starting your tour at Alexanderplatz) head towards Marienkirche, which is the church right next to TV Tower
head towards the Berlin Cathedral (Berliner Dom) which is the biggest protestant church in Germany
now you're already "Unter den Linden" (Berlins Champs Elysee)

one side-track might lead you to Gendarmenmarkt with the State Opera

walk and enjoy until you reach Brandenburg Gate

there are actually several "gates" in Berlin
Brandenburg Gate was the outside (!!!) border of Berlin towards Brandenburg (a city in the surrounding federal state of Brandenburg)
you can see a new "version" of Frankfurter Tor on your bar-trip

pass the gate
pass by the highly secured US embassy (probably now the NSA knows about this blog post now)
stroll through the Holocaust Memorial in devout silence
head towards the skyscrapers at Potsdamer Platz
Part 2 (or Day 2)
from Potsdamer Platz stroll through Tiergarten, which was entirely chopped down after WWII, because people needed wood to heat their bombed homes
seek the Siegessäule ("Victory Column") in the middle of the Tiergarten, it gives you a wonderful view on the whole city and a nice panorama including the TV tower
from there head to S-Bahnhof (train station) Bellevue (if you make it two tours, you can also go via Bellevue to the Siegessäule
take the train to Hauptbahnhof (Berlin Central Station)
exit towards river Spree, pass the Berlin white house (Helmut Kohl, German chancellor for 16 years called it that, when talking to Bill Clinton I think), where the chancellors work, head towards the Reichstag building

many people still call it Reichstag, which literally means the institution "parliament of the Reich" (!) but since there is no "Reich" anymore it's called the Reichstags-Building, seat of the German parliament "Bundestag"
I think one can't see more of Berlin in one/two days. At least not more efficiently than with these walking tours. And especially since the city is covered with Bus- (and train-) stations you can at any time stop your walk, head home and relax 🙂
Going out
Check out this tour that leads you from Frankfurter Tor via Simon-Dach-Kiez (as I would call it now "Little Dublin" (because like in Dublin there are lots of bars/pubs in a row) down to Kreuzberg.
take the U5 from Alexanderplatz -> get off Frankfurter Tor
head towards Boxhagener Str.
walk the whole Simon-Dach-Str.

until here you should have already found a cocktail bar
this street is awesome for hopping from one bar to the next, some even have live music

if you don't find anything continue south towards Oberbaum Bridge, which is more impressive by day and also worth seeing
cross it and enjoy Berlin Kreuzberg, the most multicultural of all Berlin districts

you'll find cocktail bars and exotic restaurants here
Museums & places to see outside the walking tour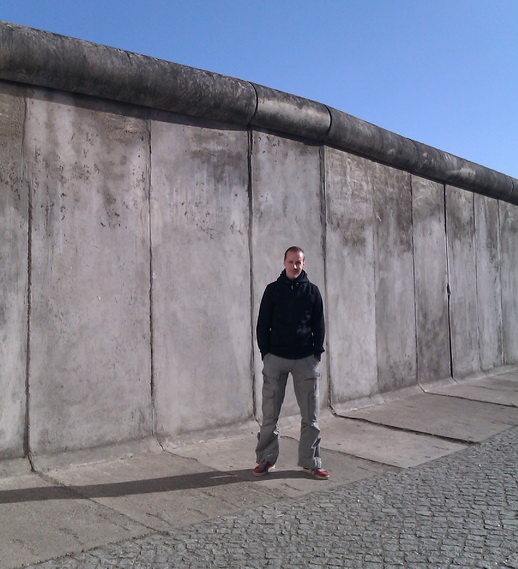 Berlin Wall Memorial Site, Bernauer Straße, Berlin, Germany

don't miss: the wall itself is quite boring seen from one side (see boring picture), BUT there is a viewpoint some 100m along the street from where you can see the whole WALL (which is actually two walls and a death strip with mines and dog patroles inbetween, so once people had passed one wall they had to overcome this, which nobody did…)

Pergamon Museum
New National Gallery (modern art AFAIK)

also a nice option if you split up the walking tour -> you could walk here from Potsdamer Platz

East Side Gallery

painted parts of the wall, real pieces of contemporary art, actually the longest and last original part of the wall that's still standing