Why I consider myself a Humor Expert
Back in 2010 (amongst others) this story went viral: Literally the "Humor" section of Microsofts Competency knowledge base. In our company it was Mike, developer in one of the teams I was honored to ScrumMaster for, who spread this competency. Ever since I consider myself a Humor Expert and wanted to brag with having reached expert level in "Humor". Only now that I finally set up a blog I can do so. It's only three years old and yet classic: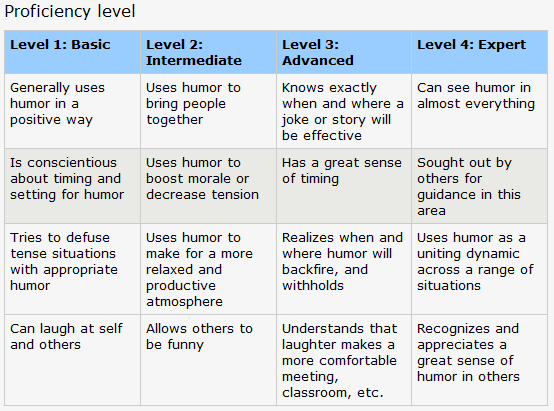 You want to learn more about humor?
You have been told, you're overdoing it sometimes?
You're a recruiter trying to find out whether an applicant has the skill?
Microsoft can help! Check it out!
Here's the current URL on Microsoft.com:
Here's the entire competencies overview:
https://www.microsoft.com/en-us/education/training-and-events/education-competencies/default.aspx
Here a great TEDx talk about the topic that really helps highlight the importance of humor in the work place and generally in life. Oh and it's actually funny, too!