Rise of the Mongols Steam Achievements
The Rise of the Mongols Scenario for Civilization 5 comes with only 1 playable civilization (the Mongols, obviously) and 6 Steam Achievements. Unfortunately these achievements don't vary much, but only represent winning the scenario on different levels of difficulty. Below you'll get an overview of the achievements followed by the Rise of the Mongols Strategy guide (which enables you to make the Ghengis Khan Steam Achievement on Deity difficulty).
Before you get cracking in this scenario, you might want to have a look at the Rise of the Mongols Scenario Map.
---
Khan
Beat the Mongol scenario on any difficulty.
Here's the thing with all Steam Achievements for Rise of the Mongols: With 1 successful game on Deity you can get 5/6 achievements. Not very rich in variety!
Great Khan

Beat the Mongol scenario on the King or harder difficulty level.
So if you win on King difficulty (annihilating 5 civilizations) you automatically get the "Khan" achievement.
Supreme Khan

Beat the Mongol scenario on the Emperor or harder difficulty level.
You might as well start on Emperor, conquer 6 civilizations, which is doable, and get all previous achievements! I'd recommend coming after North- and South-China, Persia, India, Arabia and Byzantium. Even without knowing your ways around you will conquer China within 40 turns. Pull all troops west then and together with the steady production in Karakorum you should make it until Thessaloniki and Cairo.
Kublai Khan

Beat the Mongol scenario on the Immortal or harder difficulty level.
I did not specifically go for the Kublai Khan achievement. Immortal and Deity don't differ much in game mechanics: Deity requires a little more research per technology and a little more culture per social policy. And of course you have to kill all 8 other civilizations instead of "only 7" on Immortal.
Genghis Khan

Beat the Mongol scenario on the Deity difficulty level.
Here you are. To beat the Rise of the Mongols scenario on Deity you have wipe out all other civilizations. You can do it! Read below how I did it – my personal Rise of the Mongols strategy.
Khaaan!

Run out of time to beat the Mongol scenario.
This is another reason why you might not want to play on Immortal at all: Even if you need two attempts to win on Deity, your first (failed) attempt will grant you the Khaaan! achievement!
---
Rise of the Mongols Strategy (Deity)
Beating the Rise of the Mongols scenario requires some tactical brilliance and deviousness and a good balance between your conquests and your empires' happiness.
The 1st Third: China and Japan
The start is important. As you see in the screenshots for happiness I always have an archer or crossbowman in all captured cities, because that provides an additional +1 Happiness per city. Keep this up during the entire game!
Turn 0

Declare on Jin (North-China) and Xi-Xia
Have one worker build infrastructure at Karakorum, the 2nd builds a road to Beijing.
You quickly need 6 Keshiks and two Horsemen. Promote some of the Horsemen immediately, build more in Karakorum. You can worry about improving your city later.
Edit: Gretta was asking in the comments how to achieve this. I didn't know anymore, so I replayed. Here's the explanation ->
Turn 3

Capture Xi-Xia
always leave the Horseman who captured the city in it to heal (that's why you need two Horsemen quickly)
March on Beijing

Turn 8

Capture Beijing – take a look at the image gallery below: You can place your Keshiks well out of range of Beijings city defense and still shoot it with 4-5 Keshiks per turn.

Turn 10

Capture Liaoyang – I kept the city not knowing which strategy to pursue, but you might as well RAZE it

Turn 11

Declare on Korea, use only 2-3 of your Keshiks here, as the rest is needed in China

Turn 12 – Declare on Wu Zeitan (South-China)
Turn 14 – Capture and RAZE Kaifeng
Turn 18 – Capture Korea
Turn 19

Declare on Oda Nobunaga (Japan)
Use two Keshiks, enter the hill at the southern tip of Korea, shoot at Dazaifu and leave the hill. Both Keshiks will be able to fire at Dazaifu, bringing it down eventually.

Turn 20 – Capture and RAZE Xiangyang
Turn 21 – Capture and RAZE Xian
Turn 22 – Capture and RAZE Tanzhou
Turn 26

Capture Guangzhou and capture and RAZE Dazaifu
Make peace with Oda Nobunaga (Japan), demand Kamakuro, RAZE it"

Turn 28 – Capture Hangzhou, the South Chinese Capital
Interlude: Promoting Units
Getting more XP from combat (social policy) and again more XP for Keshiks (one of their abilities) will quickly turn them into war machines! Nonetheless you can speed this up by making some important decisions while promoting them:
Try to focus on either Accuracy or Barrage, because you quickly want to get Logistics. With Logistics your Keshiks can shoot two times per turn, which drastically speeds up any following promotions. As your Keshiks will move out of City range after an attack, you won't need March in most of the cases and might take indirect fire straightaway…
The last part of the Rise of the Mongols strategy, especially the siege of Byzantium, relies on Logistics and Range, so here's my preferred promotion order:
| | | | | | | | |
| --- | --- | --- | --- | --- | --- | --- | --- |
| Western Armies | Accuracy I | Accuracy II | Accuracy III | Logistics | Range | March | Indirect Fire |
| Eastern Army | Barrage I | Barrage II | Barrage III | Logistics | Range | March | Indirect Fire |
The 2nd Third: Persia and India
Here's the 2nd part of the Rise of the Mongols Strategy: You will conquer Persia and India. Also during this time you will prepare for two more campaigns:
Some worker(s) build a road from Korea to the Northeast, always at the coast. You'll use this road to bring your 1st new army to Hokkaido and Japan: An army consisting of 2-4 Longswordsmen and ~2 Trebuchets will suffice to capture Kyoto.
A second pioneer corps (worker) build a road all the way from Urgench, Persias capital, to Russia. Meanwhile you'll also build the 2nd new army consisting of 6 Keshiks and some Horsemen to go against Russia later. Use the money you accumulate during your conquests to buy buildings in Karakorum.
Turn 33

Capture and RAZE Chengdu
Make peace with City States formerly allied with South-China
I got Russia to sign a Research Treaty
I convinced Persia to sign Open Borders

Turn 34 – using open borders move your most experienced Keshiks past Samarkand into the lowlands between Samarkand and Urgench
Turn 37 – Declare on Dareios I. (Persia)
Turn 39 – Capture and RAZE Samarkand
Turn 40 – Capture Urgench
Turn 43 – Make peace with Dareios I. (Persia), demand Nishapur and Tabriz
Turn 44 – 47

Send your units Southeast towards India – don't squeeze them through the Northwestern mountain pass!
Have reinforcements in place in Indias Northeastern Himalaya pass – build roads on that pass, so you can maneuver your Keshiks there!
Turn 46 – Ally with Abbasids as you will need this city and don't want to fight their units
Turn 48 – Declare on Gandhi (India)
Turn 49 – Harun al-Rashid (Arabia) declares on me, fortunately he first has to fight the Abbasids
Turn 50 – Capture and RAZE Multan
Turn 52 – Capture and RAZE Lahore
Turn 53 – A Golden Age dawns
Turn 54 – Capture Dehli
Turn 56

Capture and RAZE Varanasi
Don't use all your troops to take out the last Indian city. Move the main army already West to go against Arabia and Persia.

Turn 58 – Arabia captures Abbasids, which doesn't need to concern you yet – move some Keshiks into the mountains east of it and kill some Arabian Camel Archers
Turn 59 – Declare on Dareios I. (Persia)
Turn 60 – Finish Notre Dame
Turn 63 – Capture and RAZE Isfahan, destroying Persia
The 3rd Third: Arabia, Byzantium and Russia
…and Japan actually. You have severely crippled Japan in the first third. Now with the army built over time and shipped to Hokkaido, defeating Japan is only a matter of time…
Aside from Japan the third part of the Rise of the Mongols strategy explains how to deal with Arabia and Byzantium. Russia doesn't need much explanation: About 20 turns are enough time to defeat Russia so the declaration of war should happen around turn 80. By then you will have a new army at the Russian border via the road from Persia.
Turn 68

Capture Abbasids
Declare on Oda Nobunaga (Japan)

Turn 71 – A Golden Age dawns
Turn 72 – Capture and RAZE Aleppo
Turn 74 – Capture and RAZE Damascus
Turn 75

Capture Crusader States – this wouldn't be necessary, but they will be allied with Arabia anyway. Unfortunately they own 1-2 tiles of land on Sinai, where you have to move quickly to shoot Cairo. So take them.

Turn 77 – Capture Cairo
Turn 78 – Declare on Catherine (Russia)
Turn 79 – Capture and RAZE Mecca
Turn 80 – Declare on Michael VIII. (Byzantium)
Turn 81 – 88

Besiege Constantinople – first kill all units Byzantium sends against you. Your highly promoted Keshiks will do the job.
Keep your units out of range of Constantinople – by now the Keshiks should have the "Range" promotion, so you can shoot from 3 tiles away.
You will still need to rotate your units to use all of them every turn: Move to the next hill (-2 movement), shoot 2 times (-2 movement) and move back (-2 movements).
Plan your turns here: Every Keshik needs to shoot 2 times! Some will wait on the road behind to join the rotation. If you didn't use all Keshiks in one turn with 2 shoots each – reload and find a better rotation!

Turn 83 – A Golden Age dawns
Turn 84 – Capture and RAZE Vladimir
Turn 86 – Capture Kyoto
Turn 89 – Capture Constantinople
Turn 90 – Finish Taj Mahal and a Golden Age dawns
Turn 92 – Capture and RAZE Thessalonica and capture Kiev
Turn 96 – Capture Novgorod
Social Policies and Happiness in Rise of the Mongols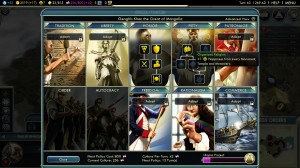 Without conquering Cultured City States (which upon capture grant 1 free social policy) you will manage to get about 6 social policies. I recommend the following order:
Military Tradition (+50% XP)
Professional Army (-33% upgrade costs, +1 happiness from defense buildings)
Apply Piety
Organized Religion (+1 Happiness from every Monument, Temple and Monastery)
After that I chose Liberty and tried to get to Meritocracy (+1 Happiness for each city connected to the capital) but that requires social policy #6 and #7, so I think one can't make it on Deity.
Notre Dame (+10 Happiness), Taj Mahal (+4 Happiness) are nice to at least stay between 0 and -9 (un)happiness. This already gives you a penalty in combat, but it's not really bad yet. Always having a Khan with your units easily makes up for that penalty.
Research
Research plays only a minor role in the Rise of the Mongols scenario, so in the initial version of this guide, I completely ignored it. Now that RMcD94 had asked in the comments, I felt like checking the research path of my game. I only loaded 6 save games, so here's my rough research path:
---
---
---
---
The general guideline is: Research for happiness – do all it takes to keep your empires happiness between 0 and -10. Other than that it's not really important. You won't need any of the units, as you'll only attack with Keshiks anyway.
Conclusion
Once you're successful, you will have created a Mongol Empire outshining the real Mongol Empire. Unlike the historical model, your empire will include India and Japan, which the Mongols never conquered. So playing this scenario is really fun. Sad you can not play any of the other empires trying to fight back. Or even play the scenario in a multiplayer match, so all your friends can ally against the Mongol hordes.
While you don't necessarily have to follow my Rise of the Mongols strategy, I hope some of the things mentioned – like building those roads, or the approach on Japan – help you win your game! Please let me know what you think about it in the comments or share this post with your Civilization-playing friends.