Rhye's and Fall of Russia
UHV
Russias unique historic victory conditions are:
Colonize Siberia by 1700 AD
Build the Apollo Program by 1950 AD
Never lost a single city until 1950 AD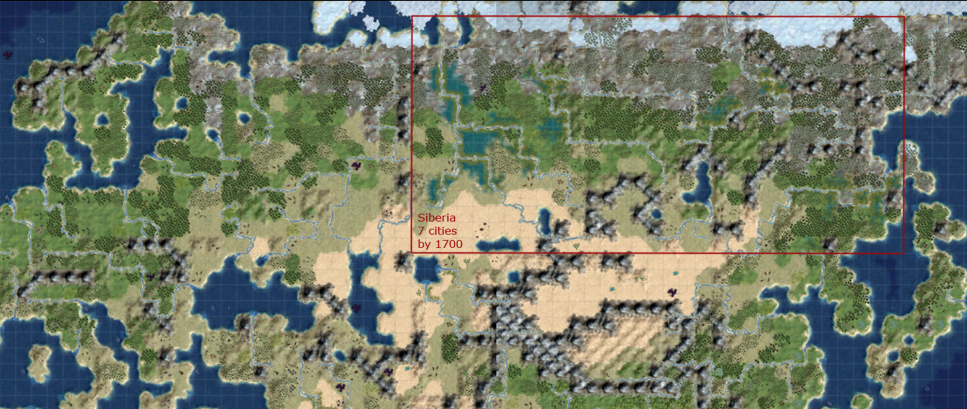 Unique Power
General Winter: Enemy units in Russia take damage every turn.
Unique Building – Research Facility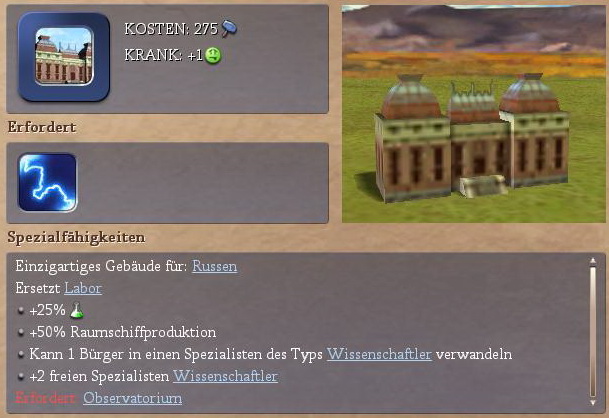 Unique Unit – Cossack
The Russian Cossack is a little stronger than the cavalry it replaces. Also it's got a +50% bonus against cannons. Not too special but still a very good offensive unit which helps defend Mother Russia from invaders from the East (Germany) and the South (Turkey).
Russian Strategy
Here's as quick summary:
grab land quickly – prioritize Europe, go for Siberia later
Ryazan (1S of Moscow) will get the Iron – found your capital there
Initial cities:
Found your first cities at will, but use the land generously. Rather found cities further away from your capital than too close – otherwise the AI civs will only claim more of your precious land!
Build some more settlers and units with defense against mounted units. The first to expand further south and east (still west of the Ural mountains) and the second to defend against roaming barbarians or even AI civs from south of the Caucasus mountains.
Rhye's and Fall Russia – Diplomacy
This is quite simple – your goal is to never lose a single city. Doing much conquest would be a risk. So play defensively. Be nice to your neighbors. Maintain relationships with Germany even if that means going to war with France or the Netherlands. None of their units will ever come near you, because they'd have to march through Germany first. Well… Napoleon did just that, but it won't happen in your game.
Colonizing Siberia
I'm pretty sure in one RnF patch the UHV goal has been revised to only requiring 4 cities in Siberia by 1700 AD. Otherwise my victory as shown above wouldn't have been possible. If you played well in the European theater you should have some decently sized cities there. Building some settlers to colonize Siberia is not a hard thing then.
Winning Rhye's and Fall Russia
Russias main problem is it's backwardness. Unfortunately your quick expansion will only worsen that burden. Technologically focus on those techs that allow you to make the most of your land and allow cities to grow! Don't ignore defensive techs though.
Once your cities grow big enough, your technological disadvantage will vanish and you'll catch up incredibly fast. By then the land will be your advantage! Big cities, production powerhouses altogether, combined with little hunger for conquest, will allow you to focus on research and build the Apollo Program early in the 20th century and win the game!
---
The usual official strategy guides are still here:
http://web.archive.org/web/20090514073418/http://rhye.civfanatics.net/wiki/index.php?title=Rhye%27s_and_Fall_of_Civilization_-_Russian_strategy
Unfortunately they're not as detailed as most of the other guides. Now I played Rhye's and Fall Russia in late 2012. By the time I'm writing this (as the 4th last of my Rhye's and Fall "Guides") it's late 2015. I wish I could provide more details, but I fear you have to make do with the above.
Bottom line conclusion, nonetheless: Rhye's and Fall Russia wasn't the hardest UHV. It's pretty much doable but might require some experimenting with how close to settle to Germany as to 1. contain them, but 2. not anger them too much so they turn on you.