Boers Deity Strategy

In this strategy guide you will learn how to win the Scramble for Africa Scenario for Civilization 5 playing as the Boers on Deity and getting the "Praise the Victories" steam achievement.
If you survive the first 20 turns and established your base, Praise the Victories is big fun and really straight forward: You have it in your hands to become a culturally dominant South Africa, repulsing the British Empire.
Praise the Victories in a nutshell
Only play with a good start location that provides lots of room for farms
England: DOW in turn 1, to get its cities ASAP
Zulu: Avoid war – don't settle near him, he's your meatshield against Portugal
Portugal: Avoid war at all costs (or see alternative approaches at the bottom)
Pump out culture like crazy!
Starting Location
The start location is essential for winning this game. The best combination you can have is a lot of flat land (to build your special farms with +3 food and +1 culture = 4 food, 1 prod., 1 culture on plains) or hills next to a river where you can also build farms. Helpful is being surrounded by mountains for defense. Those should be towards Portugal (NE), because in most cases you will need to conquer England to win this scenario. Yes: Conquer England.
First steps
Turn 1 – Don't settle next to the Zulu. Move your 2nd Settler NW towards Germany (Swakopmund). Found Pretoria in turn 1, so your movement range is limited. Being on a hill helps to have a city cannon shoot across surrounding hills later.
Pretoria builds a cannon. Max for production, build improvements around Pretoria with both workers. When the first cannon is finished – build a 2nd one. You'll need two cannons. Watch out for your workers. Do not lose one of them! Garrison your Foreign Volunteers in a defensible position. Do not be tempted by killing red or yellow damaged enemy units with not full health unit of yours. You might end up being surrounded the turn after and lose it.
Declare war on England! In turn 1! Why is that important? Well: England gets stronger every turn. Later you won't be able to compete with their production, so you'll have to take down their initial army now. Bring 'em on!
Citadels
Turn 11 – Citadels are defensive structures. Right. But nothing deals as much damage to enemy units than a well positioned citadel. Use your first Great General to build a citadel above the forests at the south coast (but out of range of Port Elizabeth).
It'll damage every passing caravan, eventually earning you some money
Your unit is protected from naval ranged attacks
Units standing in the forest can't attack you for at least 1 turn (thus getting at least 30 dmg before the first attack)
Units attacking you first are out in the open and easy targets for your first cannon(s)
Using citadels offensively helps a lot with defeating the English units. As your production is very low you will have to defeat the English with only your four Foreign Volunteers and the two cannons you produce. For every single English unit defeated you will – literally – praise the victories!
Praise the Victories – 1st half: Conquest
Turn 26 – I managed to capture Port Elizabeth. Now this is a gamble: When you're at war with another power arriving with gunships (or England has privateers which can take cities), you might wanna use your cannons to take out those units. Never mind the Ships of the Line. They shoot Port Elizabeth to 0 HP every single turn. But that's good – ships shooting at that city won't shoot your army at Cape Town.
Turn 34 – Having placed the two cannons well out of range of Cape Town you should be able to take it about this time.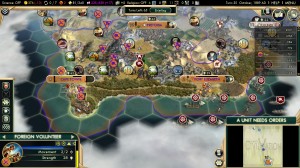 Move an infantry in range (to see the city), unleash your artillery salvos and move your infantry out of city range. Only leave it there if a new English unit threatens your cannons.
In the meantime boost culture in your capital. I built both Musicians and Artists Guild in Pretoria and had them working from the turn they were finished. Also construct the National Epic. Creating a great person 25% faster is a MUST HAVE. I built the Writers Guild in Port Elizabeth.
Meanwhile Germany had declared war on me. But not many troops were coming from Swakopmund. The English city north of it was a bigger threat to my 2nd city. Try to make peace with England as soon as you control South Africa.
Turn 48 – I took Swakopmund using the usual tactics: Bring two cannons in range, move an infantry in sight, shoot. Unfortunately there's hills around the city, so your Foreign Volunteers have to involuntarily stay there. If there's not too much damage (e.g. city+frigate or city+melee attack), fortify and heal +10 for a turn. Remember: You will want to conquer the city as soon as it's down. Make peace with Germany ASAP after that.
Praise the Victories – 2nd half: Culture
Push your economy, buy the necessary culture buildings in your 2nd city. You need an opera house in all cities to build the Hermitage in Pretoria (+50% culture).
Look at the ranking. If you see an unmet player being in the lead – that's Ethiopia! That's your enemy number 1.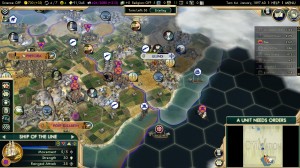 Turn 57 – The Zulu declared on me. I had to reload, as my military was really weak (because my 2nd city never really produced much) and what I had was North at the Anglo-German front. So I bribed Portugal against Shaka, who of course couldn't stand a chance and got annihilated until turn 64.
By then – using open borders with Portugal (best friend) – I had scouted the North until I met Ethiopia. I bribed all Europeans against it. As of a thread on http://forums.civfanatics.com/ that might have been a bad idea: Ethiopia, just like us, gets culture per enemy unit killed. And that culture counts for Victory Points (VP). So it might be better for your culture-race against Ethiopia, if they wouldn't be at war with the Europeans. In the end the Europeans are just too dumb to capture an Ethiopian city and limit their culture output.
When you have enough money you also will want to sell the State Museums (your unique buildings) in conquered cities. Immediately buy a new one. Why that? Because the ones you conquered don't contain a piece of art. They were built as European museums. Rebuild it and get that free great work!
Turn 79 – Eventually I allied with the City State of Mogadishu and declared war on Ethiopia myself. In the following turns I invested my last Great Artist into having a golden age, boosting my culture in all cities. Here's the statistics of the last third of the game and the close call to defeating Ethiopia: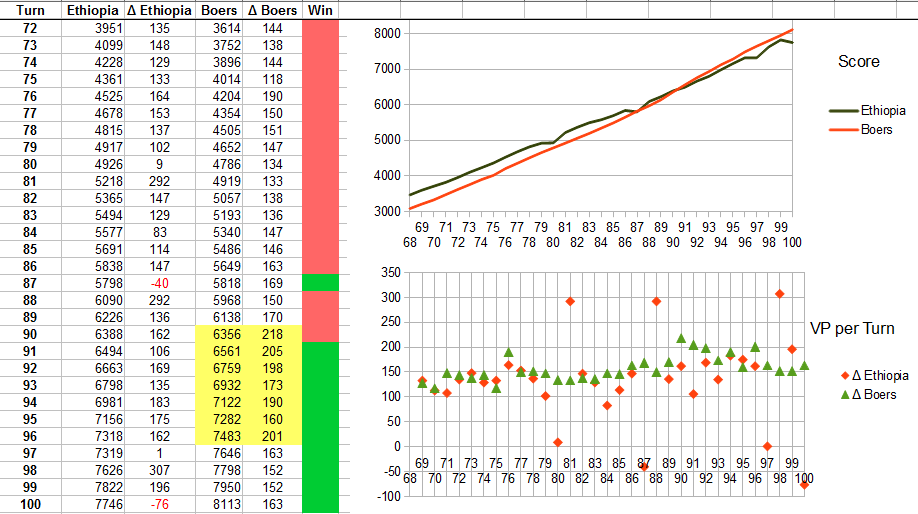 In the end Mogadishu (!!!) captured an Ethiopian city, sealing my victory. Had that not happened all those 100 turns and certainly more than 8 hours of playing the Scramble for Africa scenario would have been wasted…
Social Policies
Go for the General first (#1 in the military side of the tree). I then took #2 from the military tree, too, to support my defense against England. Then select all three culture-improvement policies. Improving your culture helps you fill the military tree faster.
Diplomacy: War and Peace
Diplomacy in Scramble of Africa is simple: Europeans hate Africans and like to declare war often and regardless of their attitude towards you. Don't trust them if they're "Friendly". There are a few remarkable things though:
They don't like to declare on you alone! If you get declarations of war – reload and declare war on one of them before (ideally one far far away). That can postpone the declaration by the other for quite some turns.
They're less likely to declare on you when they're already at war! This means: You can be safe when you bribe them into war with another player. Unfortunately in the late game Morocco gets destroyed by France, Ottomans and Egyptians by Italy. The Zulu can't compete with Portugal. So it's only you and Ethiopia left.
Here's some remarks on diplomacy with the other European powers when playing the Boers on Deity in Scramble for Africa:
Germany
Early war – no problem, Swakopmund doesn't produce much and he has not many gunships this early. Later, unless you took and garrisoned (artillery) Swakopmund, you want to avoid war with Germany.
France
In all my games I only saw three French units. One lancer (no problem) and two frigates, which can't conquer cities. No problem.
Italy
No problem – Italy can't send many units. But if there are still English Ships of the Line bombarding your city, you don't want that single gunship (Caio Dulio Class) capture your city.
Belgium
Who?
Alternative approaches
Check out http://forums.civfanatics.com/. So far I basically saw 3 alternative approaches (of which only one includes war with Portugal):
No war against Europeans in the early game
This allows you to build up your military and defend later in the game. Defending against the Zulu is easy and if the Europeans don't declare on you, you can even conquer the Zulu.
I find there's a high risk in this approach. Mostly because you can't trust the Europeans. It's highly unlikely you won't be at war the first 30 turns to build up peacefully. Also: A Zulu who defends against Portugal is better than you doing it.
You can try to keep the Zulu alive though: Simply surround one of his city with units or workers. So no melee unit can capture the city.
The Boer fleet
Pump out some privateers in Port Elizabeth and Cape Town and capture the English Ships of the Line. Use this fleet against the Europeans if they declare on you. You will depend on pillaging cargo ships though as this approach is heavy in unit maintenance costs
Both this and the above approach consider being at war with Europeans and getting culture VP for kills. Definitely better than having Ethiopia get those kills, but nonetheless a risk, since you never know when your defense is gonna collapse.
Scout early and contain Ethiopia
If you can squeeze out a fast unit early, do so. Send it through Portugal to find Ethiopia. With all the defensive promotions in the later game Ethiopia won't lose cities. Maybe in the early game it can be contained. With both Italy (Deity) and Ottoman (Deity) I tried to contain Ethiopia early. Sometimes you're lucky and can capture an unprotected settler, thus crippling Ethiopia's early expansion. I doubt this is possible playing the Boers.
Praise the Victories – Conclusion
The Scramble for Africa Deity achievements kept me busy for longer than the Fall of Rome did.
The annoying thing is that you can't rely at all on the AIs attitude towards you. They will declare on you randomly at any time. In Fall of Rome at least you could rely on always being at war – here the uncertainty drove me crazy. Also Ethiopia played by the AI is entirely overpowered. Both with the Ottomans and the Boers they are the key player to be topped in score.
Nonetheless the Praise the Victories Steam Achievement really feels like an achievement! It's very challenging, thrilling until the end and extremely satisfying once you made it!
If you found this strategy guide helpful, please like it or Google+1 it and help spread the word! Also, you can download the initial savegame here: Boers-AutoSave_Initial_0000-AD-1881-January.Civ5Save
Further reading: